Thunderbolt was conceived by engineers and operators.  Our philosophy is embodied in our motto 'find a way or make one' and it permeates every facet of our business.   Whether faced with technical, programmatic or resource-challenges, Thunderbolt's passion is to exceed expectations by developing and fielding innovative solutions for defense and commercial markets in a manner unencumbered by bureaucracy.
Thunderbolt leads innovation with two primary lines of business – commercial logistics with Amazon as a primary customer, and defense and mission-systems serving defense and security missions. Thunderbolt represents hundreds of years of operational and engineering mission-system expertise. Applying commercial best-practices in pacing change through our strategic relationship with Amazon, Thunderbolt is emerging as a leader in a Global-Security market plagued with a fast-changing threats and increasingly compressed-resources.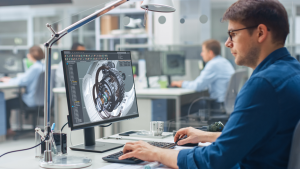 Thunderbolt's team is comprised of technical and business management professionals with deep insight into operations, Department of Defense priorities and unparalleled engineering expertise across numerous franchise-programs.
Andrew Winkler is the founder and chief technical officer for Thunderbolt Solutions, LLC. He founded Thunderbolt Solutions in 2016 and has led the company through an incredible period of growth; Thunderbolt ranked 94th on Inc. 5000's 2020 fast growing private companies.
Mr. Winkler has more than 25 years of system and software engineering experience working in the management, design, develop and fielding of large-scale real time combat systems. He started his career at Lockheed Martin and held positions of increasing responsibility from systems engineer to lead system architect for the US Navy's Aegis Open Architecture Program to technical director for the F-35's Open System Computing architecture Refresh effort.
A native of New Jersey, Mr. Winkler graduated from the University of Vermont with a MS in Physics.
Jose Mercado leads Thunderbolt Logistics, a division of Thunderbolt Software. His focus is developing and maintaining a high performing and sound logistics business, focused on last mile deliveries in partnership with Amazon. He joined the company in December 2018.
Mr. Mercado has more than 28 years of industry experience.  Prior to joining Thunderbolt, Mr. Mercado was the Director of Operations at ASRC Federal Mission Solutions. As a defense contractor he served in various capacities of program management, business development and operations. His diverse logistics experience expands in the international realm leading logistics efforts while serving in US Marine Corps, and for a small business conducting mining operations in Colombia, South America.    
A native of New Jersey, Mr. Mercado graduated from the United States Naval Academy with BS in English and obtained a MS in Organizational Dynamics from the University of Pennsylvania.
Joe Buss is the operations lead for Thunderbolt. His focus is leading Thunderbolt's engineering activities on current and new contracts, and he is responsible for the implementation of plans to meet our business commitments.  He joined the company in January 2021.
Mr. Buss has almost 25 years of leadership and A&D experience. Prior to joining Thunderbolt, his most recent role was Senior Vice President, Mission Solutions & Agile Decision Sciences, LLC  where he supported the development of mission-management & integrated decision-support systems. After leaving active duty with the Marines, he worked for Lockheed Martin in various engineering and programmatic leadership positions He Following his time at Lockheed Martin, Joe assumed the role leading Lockheed Martin's leading software-supplier, ASRC Federal Mission Solutions.
A native of Moorestown, NJ, Mr. Buss graduated from the United States Naval Academy with Bachelor's degree in Mechanical Engineering and obtained a MS in Engineering Management from New Jersey Institute of Technology and continued his executive-education at the Wharton School of the University of Pennsylvania and the Massachusetts Institute of Technology, Sloan School of Business. 
Norm Malnak leads and coordinates the development of new products and new business strategies for Thunderbolt and is responsible for the company's technology roadmap. He joined the company in January 2021.

Norm has more than 30 years of experience in the A&D industry. Before joining Thunderbolt, Norm worked for Lockheed Martin where he held numerous senior-leadership positions in the systems, computer systems and software engineering disciplines in multiple business areas. His most recent role was the Chief Technology Officer for the Aeronautics business unit where he was responsible to drive technology and product commonality across the aircraft portfolio.  Before assuming this role, he was the VP Engineering Chief Architect and also led the F-35 Mission Systems and Software team. 
Norm received his bachelor's degree in computer science from Rutgers University in 1984 and is a native of Southern New Jersey.
Send us a message using the form below! We look forward to hearing from you!
Thunderbolt Solutions – Headquarters